Tateshina Onsen
Soaking in a steaming hot spring is almost certainly a top entry in the to-do lists of prospective travelers planning a trip to Japan. After all, onsen bathing has always been a favored pastime among the nationals and has long become one of the country's symbols. Thanks to its unflagging volcanic activity, Japan features countless onsens in every corner of the archipelago. Nagano Prefecture, in particular, stands out among the rest for having the second highest number of hot spring areas (over 200). Perched on top of high mountains, tucked away in scenic gorges, or channeled in decadent baths at picturesque ryokans, local springs come in all shapes, sizes, and colors. Among them is the sometimes overlooked, but actually impressively rich, Tateshina Onsen Area.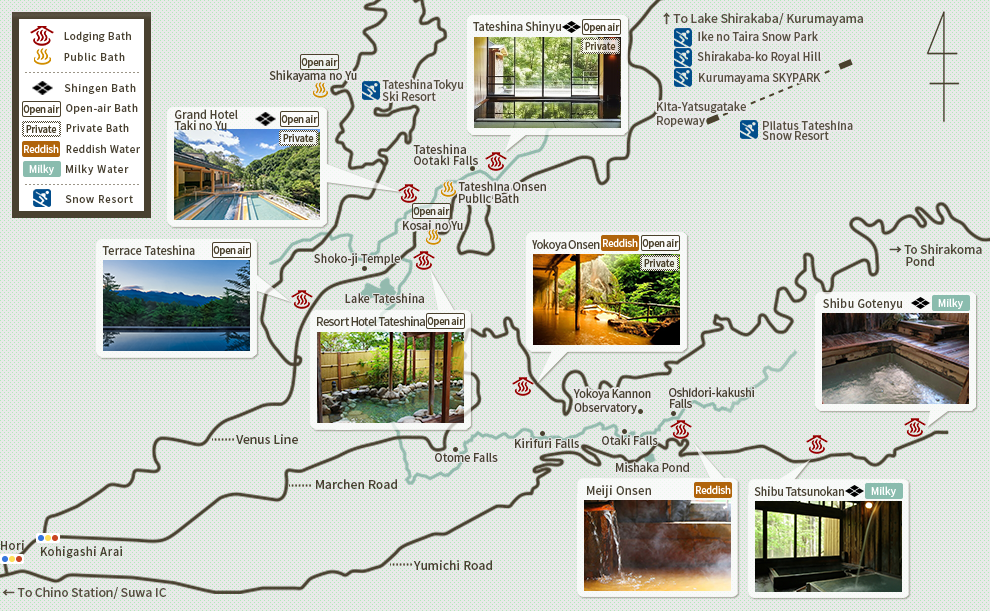 Why visit the Tateshina onsen area?
There are various reasons I could list on why you should consider Tateshina for you next onsen escapade. These include good access from Tokyo and several private-use baths available. However, in this article I would like to point out three I find particularly fascinating.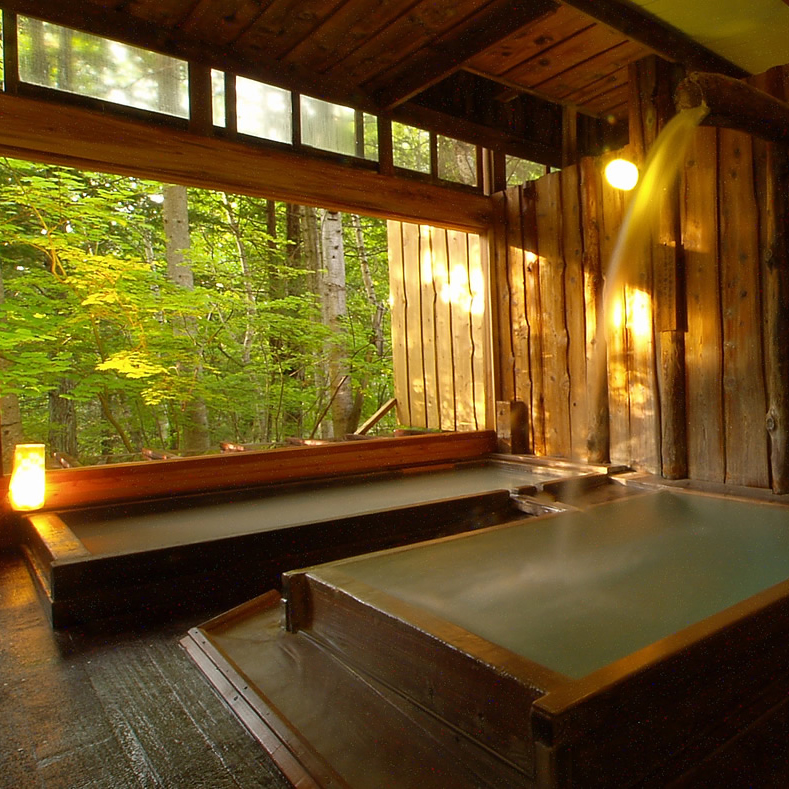 渋・辰野館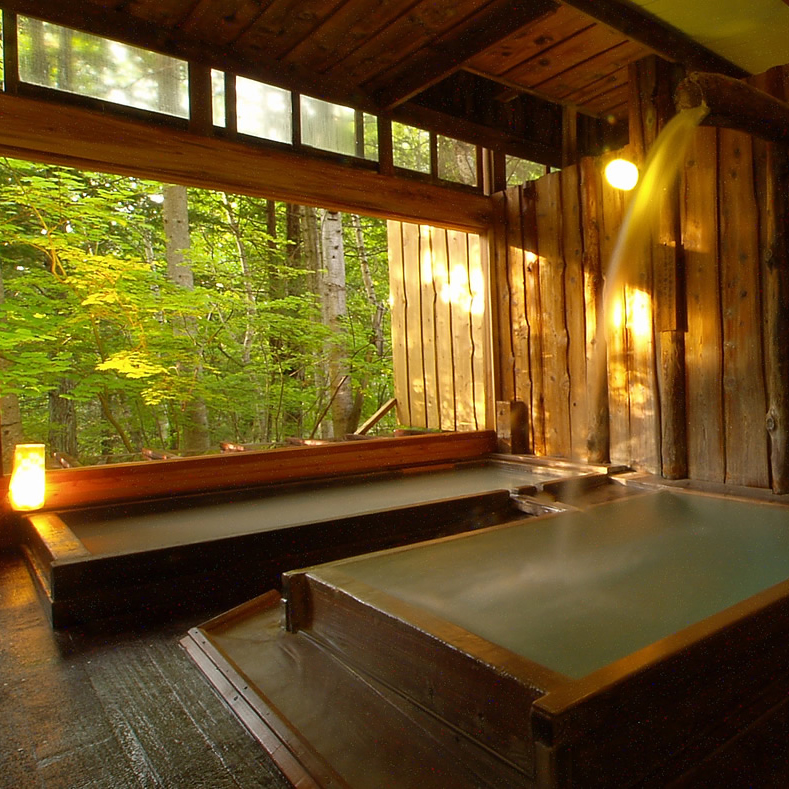 渋・辰野館
Wow factor no.1
Backstories worth of a history book!
Several onsens in Chino have an intriguing backstory. There is the hot spring whose location was disclosed to the high priest of Suwa Taisha in a revelatory dream, and then, there are Takeda Shingen's secret baths. The Lord of the Takeda clan played an essential role in developing the Tateshina onsen resort area. It is him that 500 years ago first discovered the incredible healing properties of local onsen waters, where he and his loyal samurai warriors bathed to fix their battle wounds. The "miraculous" properties of the Tateshina onsens called people from all over Japan who embarked on long pilgrimages seeking to cure their ailments in their renowned waters.
Takeda Shingen's Secret Hot Springs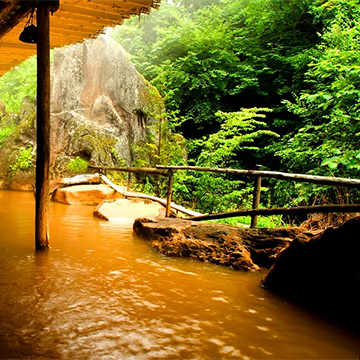 横谷温泉旅館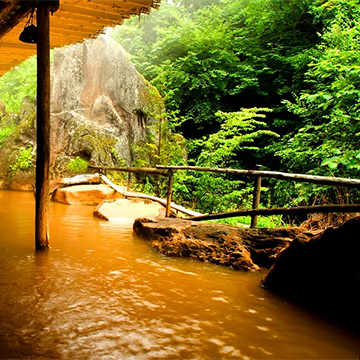 横谷温泉旅館
Wow factor no.2
A geothermal treasure trove with over eight different types of springs
There is not only one variety of onsen. Depending on its mineral composition, a hot spring's appearance, smell, and beneficial properties noticeably change. There are over eight types of springs in the area, from ferruginous to sulphureous and carbonated springs, and all are rich in minerals. The reason for such richness and diverseness lies behind the geologic origin of the Yatsugatake Mountains, a long-extinct volcano.
Sulphureous Springs (Milky white ~Cobalt blue color)
When they think of thermal baths, most people probably imagine this kind. The high percentage of Sulphur confers the water an otherworldly milky or bright blue coloration, while giving off an unmistakable punchy smell that is often associated with rotten eggs (or demonic presence in horror flicks). Thanks to its ability to penetrate the keratin layer, this onsen is very effective in softening the skin and fighting atopy and similar conditions.
Ferruginous Springs (Reddish~Yellow color)
When coming into contact with the oxygen present in the atmosphere, the iron turns the water a rust-like color that can fade to orange or yellow once the iron sediment falls to the bottom of the bath. Their memorable tint likely makes this variety the most visually appealing. Careful, though, as the residue can easily stick to your skin and dye all your towels a clay-like shade. Iron springs are great if you suffer from anemia, menstrual pain or menopause.
Alkaline Simple Thermal Springs
Simple springs are characterized by delicate water with a low mineral content, which stimulate epidermal growth. They are also known as "beauty springs," as they make the skin supple and silky to the touch.
Sulfate Sodium Springs
The saline composition of these springs creates a film over the skin which helps retain warmth. They're quite useful in winter, especially if you are up in the mountains.
Bicarbonate Springs
Bicarbonate springs have tiny bubbles which make the water feel a little fizzy at the touch. They emulsify skin fats and secretions making them easier to remove.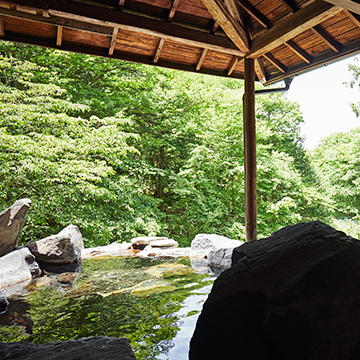 創業大正十五年 蓼科 親湯温泉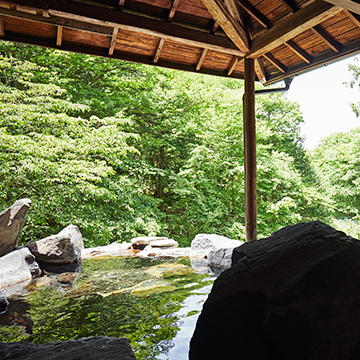 創業大正十五年 蓼科 親湯温泉
Wow factor no.3
Outstanding natural views
While some people seek certain baths for their therapeutic properties, others are more interested in the overall atmosphere and scenery you can savor at the onsen. Tateshina stands out in this area as well. Thanks to its ideal position halfway through the mountains, local baths offer dramatic views of tall peaks, lush gorges, and thick woods. The thermal experience, though, is not only appealing to the eye, but to all senses. When immersed in the hot water of the picturesque open-air baths, your ears are entertained by the lulling melody of gurgling rivers and waterfalls, and your nose is tickled by the sweet aroma of trees and flowers.
Hot springs with open-air baths
Lodgings with day-use baths
Takeda Shingen's Secret Baths
With open-air bath
Reddish waters
Milky waters
Private bath


Chino Covid Safe Guideline Certified Business* ※
※ This is an independent certification system developed by Chino City under the supervision of an infectious disease specialist. It establishes sanitation and cleaning guidelines aimed at keeping the risk of infection to a minimum in touristic establishments such as restaurants and lodgings.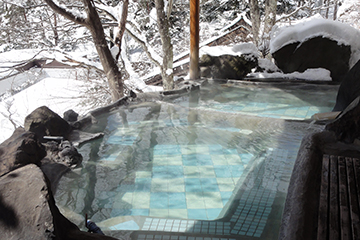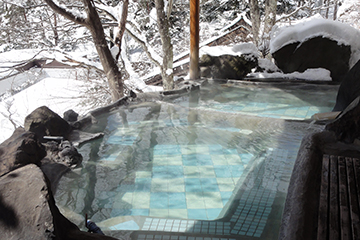 Kosai no Yu
Kosai no Yu has as many as six baths, an impressive number especially when you consider five of them are outdoors. The facility has an intriguing structure. It is built on a slope, with the various baths spread out on a vast surface and connected through mood-evoking roofed wooden corridors. Thanks to its elevated position at about 1,280m, while soaking in the onsen you can relish amazing views of the Japanese Alps. If you feel somewhat uncomfortable at bathing with strangers, you will be happy to know that here you will also find one private open-air bath.
| | |
| --- | --- |
| Spring name | Tateshina Mimuro Gensen |
| Appeal points | The unorthodox structure which allows you to explore, together with the magnificent view sets this facility aside from the rest. |
details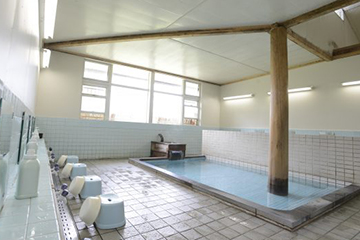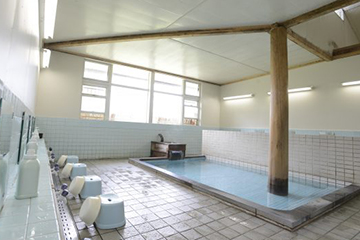 Tateshina Onsen Public Bathhouse
Chino Covid Safe Guideline STEP1
Behind its austere and stark appearance, this is one of the most beloved hot springs in the area. With its somewhat small bath often livened by the chitchat of regulars, the Tateshina Onsen bathhouse gives off a nostalgic feeling. There are no showers and toiletries such as shampoo are not provided. You are supposed to bring your own soap and wash your body the old way, by scooping up water from the tub and use it to rinse. Its scalding onsen water is widely appreciated, as it relaxes your muscle and washes the fatigue away.
| | |
| --- | --- |
| Spring name | Tateshina Mimuro Gensen |
| Appeal points | The hot onsen water (around 43 degrees), together with the at-home atmosphere are great. |
details
Public Baths run by the City
Hot springs are so common in Chino that there are seven bathhouses (each for every district)run directly by the city. We are not talking about sentos, where you soak in ordinary hot water, but proper natural hot springs. As they are targeted to the local people, they have lower prices for the residents, but are overall the most affordable options for travelers too. They are also convenient. As a rule, they are provided with large resting rooms, indoor and outdoor baths, basic toiletries (rinse-in-shampoo and body soap), vending machines, and often small eateries.
*Currently, as a precaution against the spread of covid, you are required to register your name and contact information at the counter.


 Jomon no Yu (Toyohira area /near Togari-ishi Jomon Museum)- Sulfate Sodium Acidic Springs
 Shiotsubo no Yu (Yonezawa area/ near Tateshina Jiyu Noen Farmer's Market)- Sulfate Sodium Acidic Springs
 Bogaku no Yu (Tamagawa area)- Alkaline Simple Thermal Springs 
 Kinkei no Yu (Kanazawa area)- Alkaline Simple Thermal Springs 
 Aqualand (downtown area-20 min on foot from Chino Station)- Alkaline Simple Thermal Springs 
 Kawara no Yu (Izumino area)- Simple springs
 Suzuran no Yu (Lake Shirakaba)- Simple springs