SAFETY
Dealing with Language Barriers
If you are unable to communicate with staff at your hotel or medical institution regarding your symptoms, please call the Nagano Multilingual Call Center.
The Nagano Multilingual Call Center offers free interpretation services for international
visitors in 17 different languages, 24 hours a day.
Nagano Multilingual Call Center
Phone Number 0120-691-792 (24 hours a day, 365 days a year)
For international or roaming calls, dial +81-92-687-5289 (fees apply to international calls)
*Spoken languages
English, Chinese, Korean, Thai, Indonesian, German, French, Italian, Russian, Spanish,
Portuguese, Vietnamese, Nepalese, Tagalog, Malaysian, Burmese, Khmer
EMERGENCY CONTACTS
Police
Dial 110
Dial 110
You can still reach emergency numbers even if you don't have a SIM card, using the emergency call option on your screen. Tell the operator your name, what happened, and when and where it happened. There are English speaking operators but there is no guarantee you will be able to speak with one.

When there is no English-speaking operator available,
- If there is someone nearby, ask them to help you explain your emergency to the police.
- If you are alone, use the keywords below to communicate your emergency:
Tasukete, "Help me"
Dorobo, "I was robbed"
Kuruma no jiko, "Car accident" or call the Nagano multilingual call center (+81-92-687-5289) and have them help you contact the police.
Fire Department
Dial 110
Dial 119
The operator will answer and try to assess the situation you are in by asking you:
Kaji desu ka, kyukyu desu ka?, "Is it an emergency or a fire?" Please answer:
Kaji desu, "It's a fire"
Hospital
Dial 119
Dial 119
The operator will answer and try to assess the situation you are in by asking you:
Kaji desu ka, kyukyu desu ka?, "Is it an emergency or a fire?" Please answer:
Kyukyu desu, "It's an emergency" or call the closest facility that can accommodate international visitors:
Suwa Red Cross Hospital (emergency hospital)
Address: 5-11-50 Kogandori, Suwa, Nagano, 392-8510
Tel: 0266-52-6111

See the medical care guide on the JNTO website.
https://www.jnto.go.jp/emergency/eng/mi_guide.html
*Site can be viewed in English, Chinese (simplified and traditional), and Korean
City Hall
| | |
| --- | --- |
| Adress | 2-6-1 Tsukahara, Chino |
| Tel | +81(0)266-72-2101 |
| URL | https://www.city.chino.lg.jp/index.html |
| Open | Monday to Friday (8:30 am~5:15 pm) |
| Close | Saturdays, Sundays, Festivities and New Year's Holidays |
Disaster Prevention and Information Gathering Resources
The Nagano Prefecture Disaster Prevention Information Portal displays up-to-date information regarding weather reports and evacuation warnings throughout the prefecture in Japanese, English, Chinese, and Korean.
FOR A SAFE TREKKING
In preparation for the trek
In Nagano, it is necessary to submit a trekking itinerary if you wish to pass the mountain trails designated by the prefecture. The information shared on a trekking itinerary greatly speeds up rescue activities in case of an emergency.
Submission of Trekking Itineraries for Climbers in Nagano Prefecture
Mountains that Require a Trekking Itinerary
During the trek
Every time you climb a mountain, you do so at your own's risk. There is no electricity or potable water on the trails, and depending on the position, your mobile phone may have no reception.
If you find yourself in trouble, seek help at the closest mountain hut, or if you do have reception, call 110.
Make sure to finish your trek or to get to a mountain hut by 4 pm in the green season and by 3 pm in the winter season.
Please be aware that the risk of falls, slips, and hypothermia dramatically increases during bad weather. In case of rain, make sure to bring a spare set of rainwear.
If you trek in winter, you must prepare all the necessary winter equipment such as crampons, ice axe, and helmet. The Yatsugatake Mountains turns into a winter mountain from early November to early June.
CREATURES TO BE WARY OF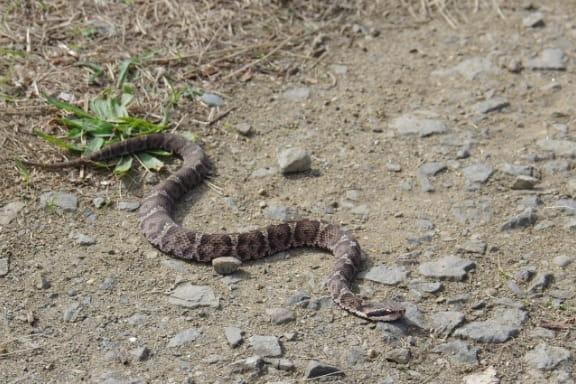 Mamushi
(Japanese Pit Viper)
The mamushi has the classic triangle head of a pit viper and is grey to reddish brown with irregular yellow bands and speckled sides. It is a poisonous snake, so it is best to avoid when sighted. Its length is 40-65 cm.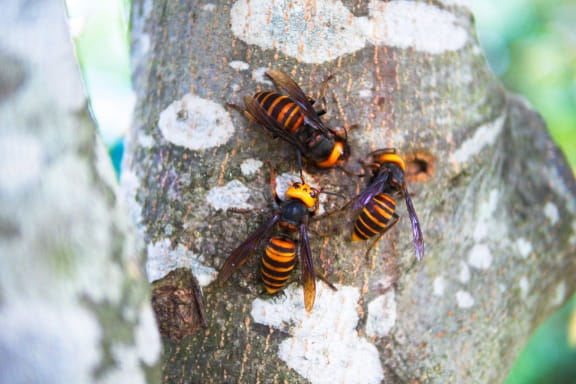 Suzumebachi
(Asian Giant Hornet)
These hornets can be very dangerous. If you see a nest, avoid the area. If one flies near you, do not swat at it but slowly move away. They are especially active in the fall season.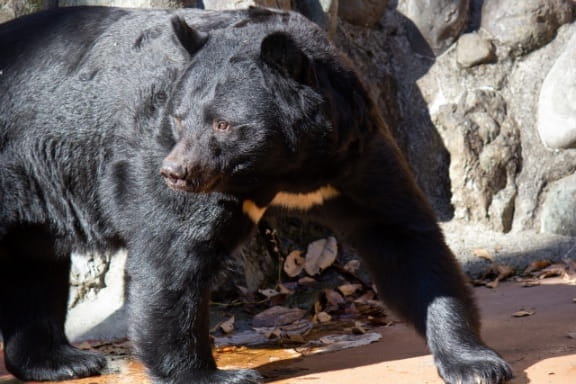 Bear
There is a slim chance you might encounter a bear while trekking in the mountains. Bears are rarely sighted in this area, but they do roam the Yatsugatake forest from time to time. If you see one, do not panic or flee. Keep your eyes on the animal while slowly retreating.
Heat
Summers in Chino are crisp and refreshing, especially in the morning and in the evening. However, at such high elevation, sun rays are strong, and it is easy to get sunburnt. Make sure to keep hydrated and cover with a hat and sunscreen. If you are trekking, it is best to wear long pants, long sleeves, and trekking shoes, no matter how tempting it is to go for shorts, t-shirt, and sandals. The mountains host a variety of biting insects who aim at uncovered skin.
Cold
Winters in Chino are long, and temperatures drop way below zero. At night it can even go down to minus 15 - 20 degree Celsius. Make sure you have plenty of warm clothes and anti-slip shoes (as frost often forms an ice layer on the ground).
If you plan to go trekking, you need all the right equipment from crampons and ice axe to insulated clothes and survival tent.