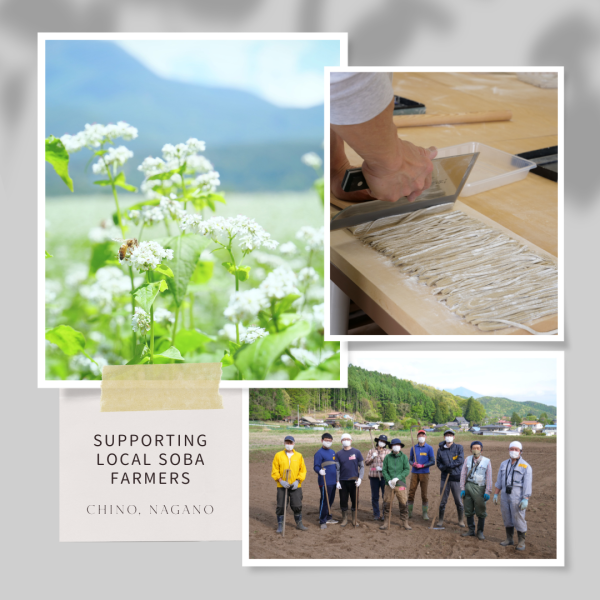 What is the Soba Field Supporter program? What is Yatsugatake soba?
From August through September, soba (buckwheat) flowers bloom in abundance, filling the terraced fields of Chino with delicate white blossoms. In autumn, the harvest begins. Highly praised by soba artisans, soba grown here in the foothills of the Yatsugatake Mountains can often be found at popular eateries in Tokyo. In recent years, however, a decline in the number of farmers has made it increasingly more difficult to continue producing Yatsugatake soba. This is why we started the Soba Field Supporter program. Since 2018 the program has supported local farmers, and we hope you'll join us this year!
After becoming a Soba Field Supporter, program participants will have various opportunities to engage with local farmers and each other. Mow grass with the farmers, set up deer fences, experience soba making, and more. Afterwards, soak the day away in a soothing natural onsen. Activities take place about once a month throughout the year and participation is voluntary.
Program funds will be used to support local farmers whose soba is served at local soba shops, sent to flour mills and noodle companies, and even turned into beer. This year, the first ever Yatsugatake soba beer will make its debut!
Unlike typical support or adoption programs, this program will allow farmers to maintain ownership over their soba fields. The soba that is grown and harvested will belong to them.
This year, in addition to Soba Field Supporter cards which can be used for benefits at participating soba shops, we have prepared 3 courses for Soba Field Supporters to choose from.
Do you like beer or soba?
Do you want to preserve the fading rural scenery of Japan?
Do you want to contribute to regional revitalization?
If you answered yes to any of the above, this program is for you!
2022 Soba Field Supporter Program Guidelines
●Application Deadline: June 30, 2022
●Courses
Soba flour course: JPY 10,000 (after tax)
New Year's Eve soba course: JPY 13,000 (after tax)
Soba beer course: JPY 13,000 (after tax)
※Contract period: Through March 31, 2023
※There is no limit to the number of courses per person. Generally, one course supports 50 ㎡ of idle land to be newly developed, or about 100 ㎡ of active farmland. More courses purchased means more idle farmland rescued, so feel free to apply for as many courses as you'd like!
●Benefits
All participants will receive a Soba Field Supporter Card, which can be used at participating soba shops to receive benefits.
Soba flour course: Receive 1 kg of soba flour from this year's harvest (shipping cost not included)
New Year's Eve soba course: Receive 100% Shinshu soba (300 g x 4 packs) on December 31 (shipping cost included for Honshu)
Soba beer course: Receive 4 bottles of soba beer (shipping cost not included)
Receive priority to attend soba beer debut event (participation fee not included)
●Location: Chino City, Nagano
※Farms are accessible by bus from JR Chino Station
●2022 Activity Schedule (Participation is voluntary)
May 28 (Sat) 11:00 am – 2:00 pm: Meet the soba farmers! Field viewing & grass mowing
June 18 (Sat) 11:00 am – 2:00 pm: Grass mowing & deer fence set up
July 14 (Thu) 2:30 pm – 4:30 pm: Grass mowing (kanzarashi soba on sale)
August 20 (Sat) 2:30 pm – 4:30 pm: Grass mowing (flowers will be blooming)
Soba making class is scheduled for the morning (additional fee)
September 22 (Thu) 11:00 am – 2:00 pm: Grass mowing (pre-harvest)
December 17 (Sat) 4:00 pm: New soba beer debut event (priority to soba beer course participants/additional fee)
In the case of rain, grass mowing will be moved to the following day. If it rains again the following day, grass mowing will be rescheduled for another day.
On grass mowing days, 500 yen will be collected for insurance purposes.
●Type of Soba: Shinano No. 1
●Contact Information
Chino Tabi Concierge
Tel: 0266-73-8550 (Hours: 9:00 am – 5:00 pm)
Email: ask8@chinotabi.jp (Contact: Tago)
※Program guidelines (JP)
※Program terms (JP)
※Application form (JP)